We have used to talk about products, not focusing on services there are to offer. At Stalatube we have recognized that we do more than just the stainless steel products, actually we have branded products where we can adjust services to make the customer experience better. We want to tell you more about our services. We at Stalatube have long experience and strong professionalism in serving our customers within stainless steel business and products.
Our services for you
We have five different services to offer for you: Technical consultation, Testing and certification, Tailoring, Surface enhancement, and Smart logistics. We offer our services as single products and combined and mixed with others. There are no restrictions between this group of services.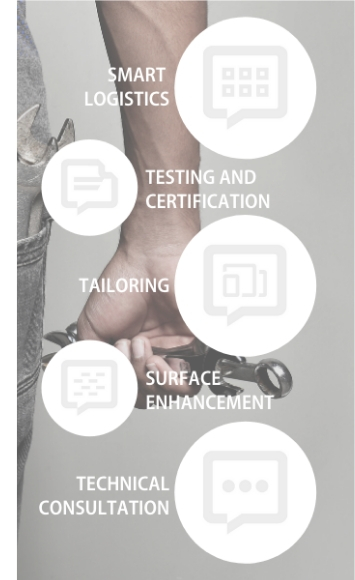 – Throughout the years we have noticed that our customers want more tailored hollow sections with high-quality finishing than just the standard tubes. Tailoring brings our customers benefits compared to standard tubes, because they can be installed without fabricating and that gives time and cost savings. We could say that we have done a great part of our customers' work.
Logistics is also a traditional service in B2B industry, and we have made it more efficient for our customers. We offer special packaging with comprehensive markings among solutions for storing. Our increasing customer knowledge leads to customized solutions for your benefit. We want to understand more your processes and through that information we can offer you tailored products and services.
In demanding projects project management and associated documentation is very important. Technical consultation, documentation, and testing and certification are commonly needed in oil & gas- and nuclear industry, in which we have long experience. Different documentations need to be done according industry demands and the product quality needs to be ensured through different certificates.
Tailoring with Stalafit
STALAFIT is the service you have always wanted and we offer it! You actually can order the tube that fits precisely to your tube needs. You can optimize the hollow section with your own external dimensions, load bearing capacity, and requirements – everything with one-millimeter accuracy. Stalatube is the only supplier of this kind of tailoring service in stainless steel hollow sections industry.
– I know that, before the customer mainly chose standard tubes, which might have been too big and heavy compared to the need. But from the STALAFIT service the customer can choose exactly the tube he or she needs, with right dimensions. The special customer tailored and optimized products with reasonable minimum quantities gives benefits and savings in many different levels.
We also recommend trying our free app Stalafit PRO to design your product, create comprehensive design reports and even send us an enquiry. Stalafit PRO allows you to also quickly see all size options.
More to come
We develop our products and service offering together with our customers. We want to make sure that you get benefits, safety, and savings in every matter that we do together. That is also why we want to develop our customer services to your needs and demands in everyday life. Read more about the services here.
Contact us at the earliest possible stage of your production to make the most out of our services.