We believe that to save the planet for future generations something must be done immediately. This is why we started to do things differently and set out to find alternative, more sustainable ways to build things. Enter high strength stainless steel that has all the amazing benefits of stainless steel with less material and less weight. Enter easy-to-use high strength Austenitic stainless steel. Enter Stala500.
We are introducing a new enhanced strength class Stala500, along with two new high strength Austenitic material grades, 301LN and 316Plus to give you a smooth transition to the world of high strength from traditional materials, be it structural steel or traditional stainless grades. They have all the benefits of Austenitic stainless steel:
easy to process: easy to cut, bend and weld with traditional methods and materials
easy to combine with other steel grades
cost-effective
So what's new compared to our basic Austenitic 304? These new products are more sustainable. How and why, you ask? Because with high strength stainless steel you get the same performance with less material. And less material means lighter weight and lower impact from production, less fuel used for transport and a lower carbon footprint. And yes, like all our products, it's 100% recyclable and mainly made from recycled raw material.
We don't call it the Stainless Revolution for nothing.
Revolutionary benefits
Use less material and get the same performance
Less material used in production
Less energy used in production
Less fuel used for transport
Less waste
Smaller carbon footprint
More sustainable
Lower cost
Use stronger, more durable material
Higher yield and tensile strength
Lighter weight for the same outer dimensions
High corrosion and fire resistance
Better abrasion resistance
Extremely long-lasting and 100% recyclable
Discover our new material grades 301ln and 316plus
To complement the strength of our legendary STALA350, we are introducing an even stronger strength class for Austenitic materials. STALA500 is available in two high strength Austenitic material grades: 301LN and 316Plus. They are a great alternative to both carbon steel and standard Austenitics, such as 304.
In strength class STALA500, these materials come with the yield strength of 500 MPa. With these new material grades, the hollow section wall thickness can be reduced by up to 50%, while maintaining the same outer dimensions and bending resistance as tubes made from standard stainless steel.
Austenitic tubes with this strength class are suitable for use in many different industries and applications.
These high strength grades have excellent formability and weldability in both available strength classes: STALA350 and STALA500. They can be easily welded together with standard Austenitic grades and with structural steel.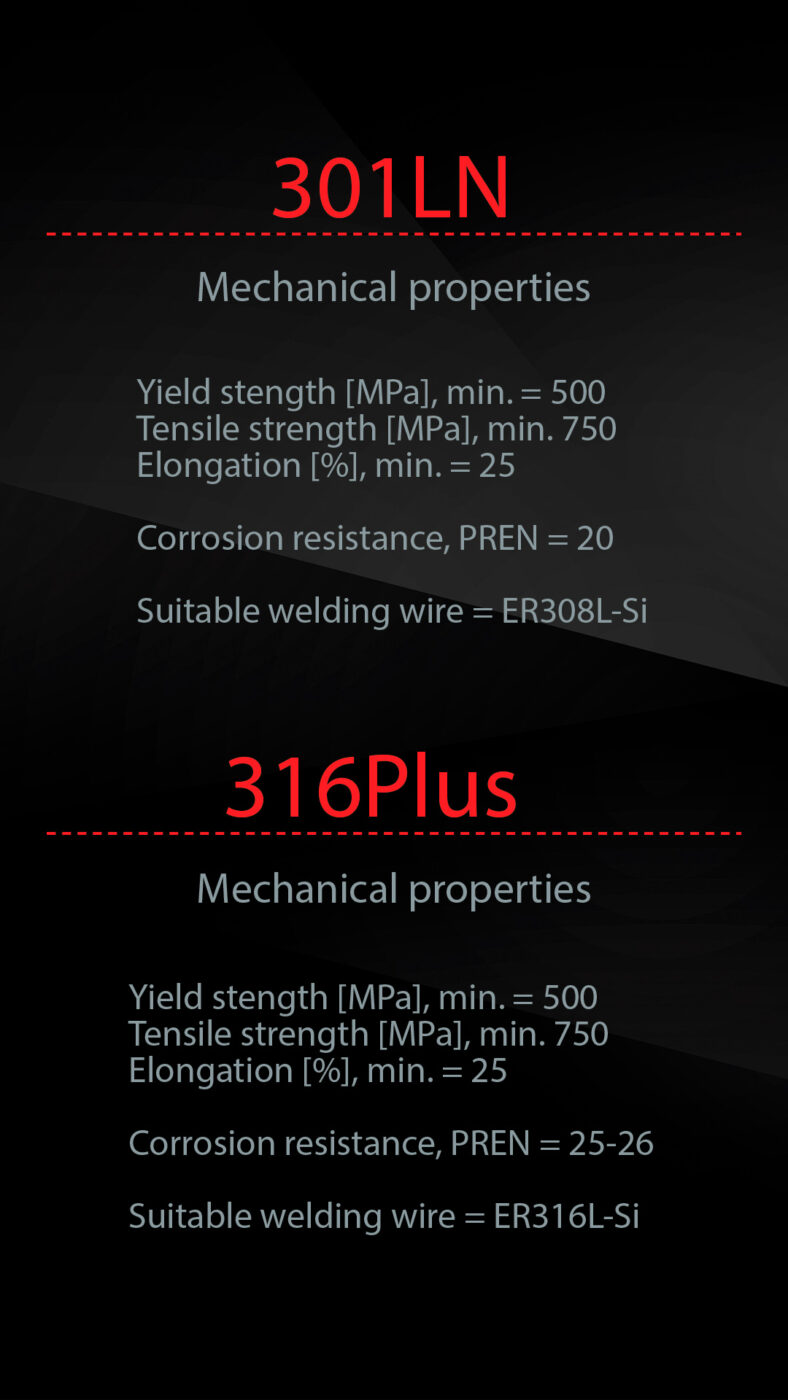 Suitable for many applications
Vehicle bodies and chassis
Architectural applications like balconies
Process and transport tanks
Bridges
Cable supporting structures
Dam structures
Process equipment
Load-bearing applications in general
At Stalatube, we aim to minimize our environmental impact and give our customers more sustainable and responsibly produced steel solutions and services, which enable increasingly environmentally friendly business, for instance by reducing environmental loads as much as possible. When we have new products out, they must reflect our sustainable way of thinking.
With STALA500, we are doing just that. This new, higher strength stainless steel is more sustainable because it gives our customers the strength they need using less material. The cherry on top of the sundae is that by needing less material, it also means a lower price for you.
To put it short: it's a better, more sustainable product that's also longer-lasting and more cost-effective. It's revolutionary.